A blocked nose is a common reason for needing ENT surgery. In adults there may be a number of causes. Anatomical changes, allergies and sinusitis are all common reasons for the feeling of a blocked nose.
The treatment of these conditions first requires careful investigation through examination of the nose and other tests which may include CT scans and allergy testing. I believe in understanding the cause and treating this with medical treatments in the first place. Surgery is reserved for when these treatments don't work.
There are many causes for a blocked nose in adults. These include:
The anatomy of the nose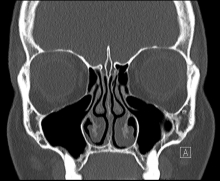 The nose is divided into two sides by the nasal septum. It is not uncommon for the septum to be deviated. Minor deviations rarely cause a problem and people live with these without even knowing. More significant deviations however can cause a blocked nose.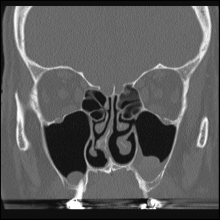 In addition to the septum the nose has turbinate bones that hang into the nose from either side. There are three on either side and the inferior turbinates contribute most to the airflow through the nose. When they become enlarged they can cause significant airflow restriction. Often nasal obstruction caused by enlarged turbinates is worse at night and may switch from side to side. Sometimes septal deviation and enlarged turbinates contribute together to nasal obstruction.
There are many causes for turbinate enlargement including airborne allergies, things around the house as well as pets. In most cases these are treated with medical treatments in the first place before surgery is considered (read more about turbinate surgery). Deviation of the septum, if it causes a blocked nose, is best treated with surgery. Find out more information about septal surgery.